Bitcoin hits $28k as uncertainty surrounds banks
Bitcoin's price has surged to surpass the $28,000 zone, marking a 16% boost in value in the past seven days
Bitcoin (BTC) price surged on March 19 to surpass the $28,000 zone, marking a 16% boost in value in the past seven days, according to Cointelegraph's MarketPro data. 
At the time of writing, the leading cryptocurrency was trading at $28,063, a 2.4% increase in the past 24 hours. The price reached $28,459 at its highest point during the day before trading at $26,877 during the day's low.
Overall this week, Bitcoin has gained over 37% against the U.S. dollar. Bitcoin's market capitalization added $194 billion in 2023, representing a 66% gain year-to-date, outperforming Wall Street banks stocks, especially with fears of a global banking crisis rising. Bitcoin is up about 65% so far this year, versus the S&P 500's 2.5% gain and Nasdaq's 15% decline in 2023.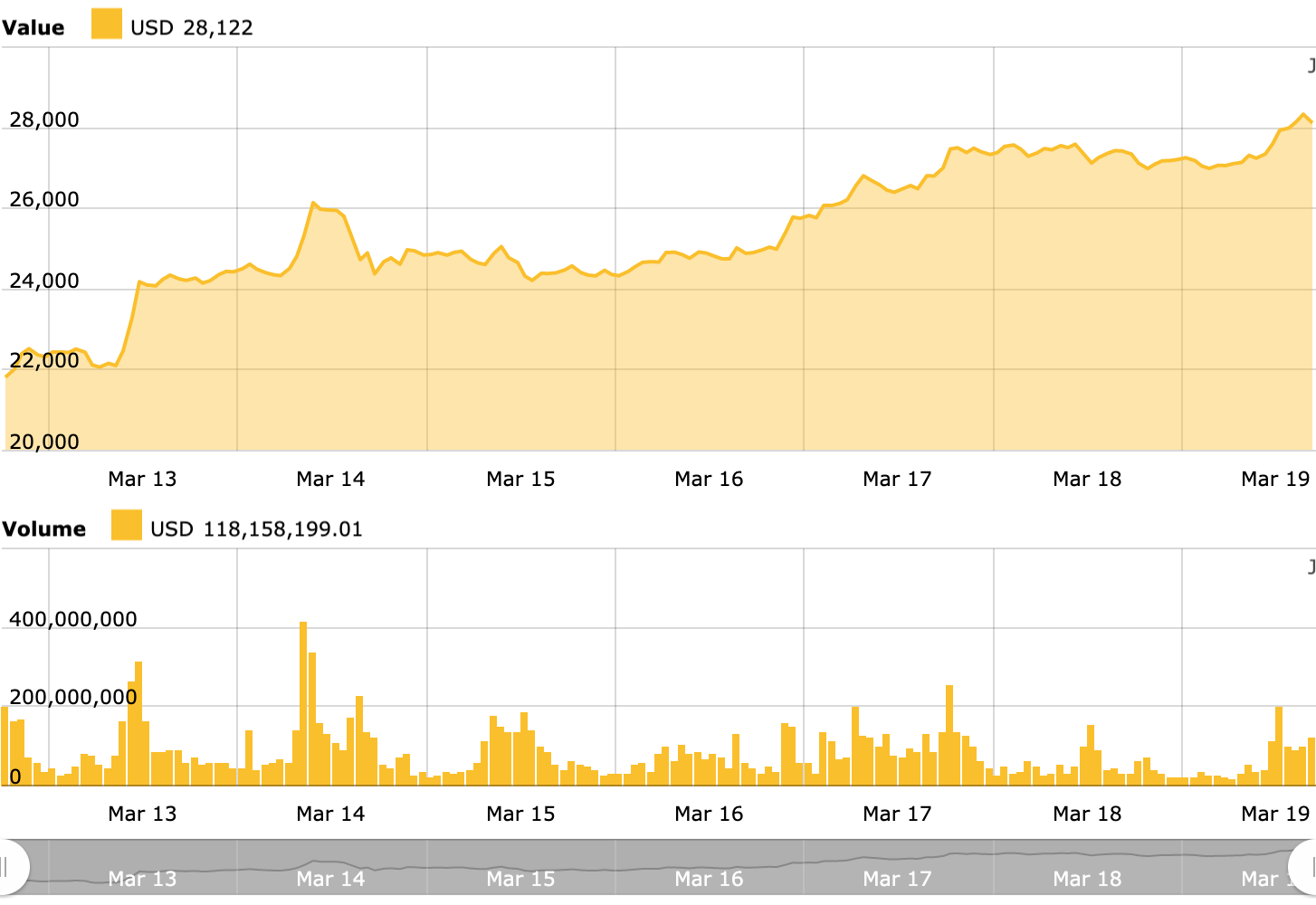 United States bank valuations have slid amid the ongoing fear surrounding regional banks in the country after last week's developments, including the shutdown of Silvergate, followed by regulators' subsequent takeover of Signature Bank and Silicon Valley Bank.
Related: Bitcoin levels to watch as BTC price eyes highest weekly close in 9 months
In Europe, Credit Suisse was acquired by UBS Group for nearly $2 billion earlier in the day as part of emergency plans led by Swiss authorities to preserve the country's financial stability. As part of the agreement, the Swiss National Bank committed to providing over $100 billion in liquidity to USB.
The $2 billion deal represents a considerable discount under Credit Suisse's market value on March 17 of nearly $8 billion, according to data from Companies Market Cap.
An impending global banking crisis could take Bitcoin to $1 million in less than 90 days,  former Coinbase chief technology officer Balaji Srinivasan claimed on Twitter. According to Srinivasan's forecast, a U.S. banking crisis would trigger a hyperinflation scenario leading to the seven-digit Bitcoin price. Srinivasan is betting $2 million on Twitter on his view of the U.S. economy's future, as well as potential impacts on Bitcoin's value.