BitDAO proposes to replace BIT token in branding revamp
After community approval, BIT holders will undergo a token-conversion process for the new Mantle token. Governance and treasury management will remain unchanged.
A proposal seeking to apply a "One Brand, One token" principle has been pushed to a vote on BitDAO's Snapshot and calls for substituting BitDAO's token (BIT) under a new governance token. Snapshot serves as an off-chain governance voting platform for decentralized autonomous organizations (DAOs) and other blockchain projects.
According to proposal BIP-21, the BitDAO ecosystem — governance (BitDAO) and product (Mantle) — will be unified as Mantle. Governance processes and treasury management will remain unchanged, but after community approval, BIT holders will undergo a token-conversion process for the new Mantle token.
The move comes ahead of the mainnet launch of Mantle, a scaling layer-2 protocol built on Ethereum. The mainnet launch is expected in the coming weeks. BitDAO is backed by crypto exchange Bybit, along with Pantera Capital, Dragonfly and venture capitalist Peter Thiel.
Token conversions may introduce a fixed exchange rate for all users, preserving all governance rights and other interests, according to the BIP-21 description. A gradual conversion process will be available on different channels, and holders will have a timeline for converting tokens.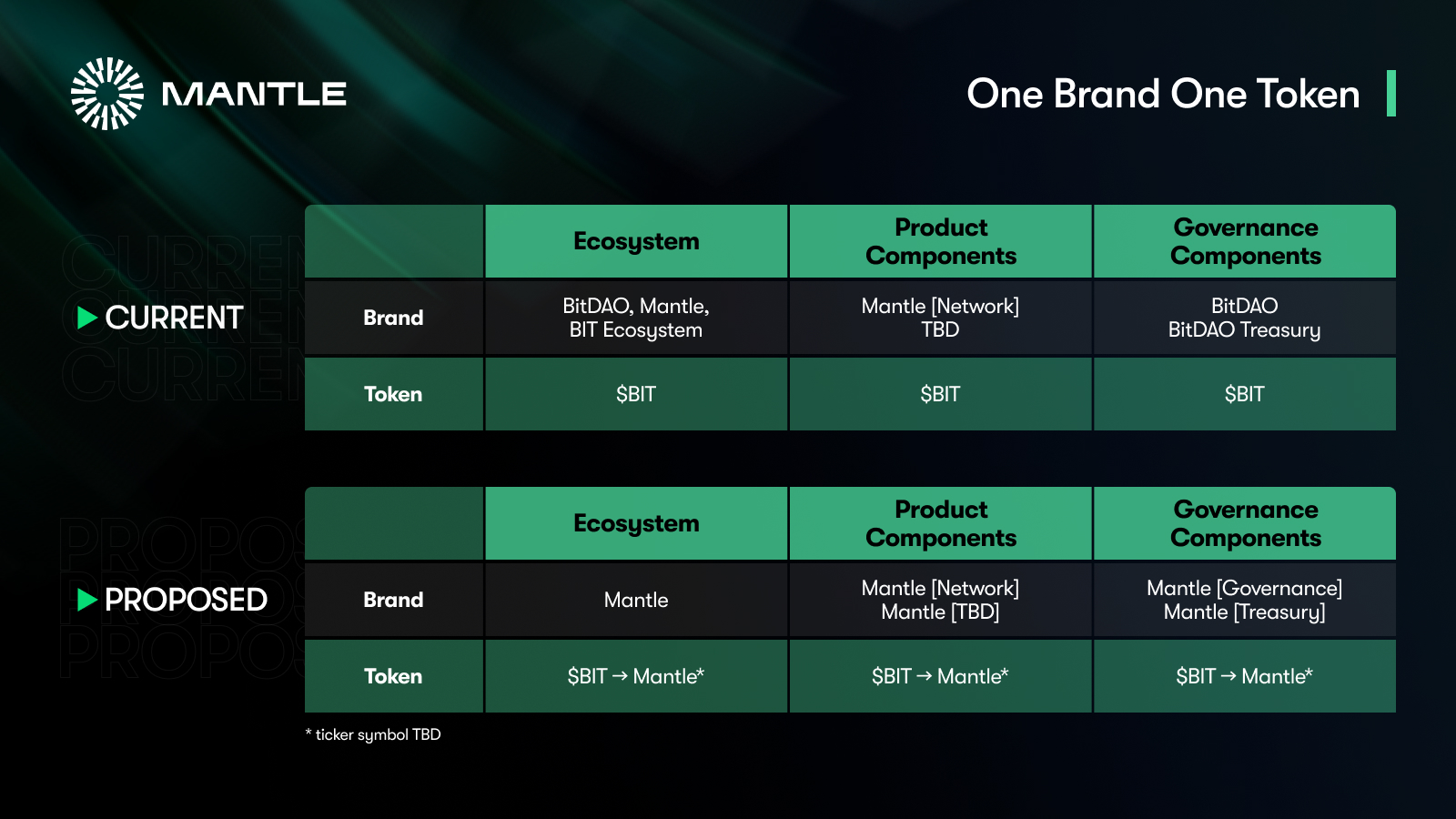 Token-conversion rules and ratios shall apply to all tokenholders equally, and holders are not required to take any action in advance, says the proposal. Details on token-conversion plans will be discussed if BIP-21 is approved.
Related: Researchers in Singapore design new 'more efficient' DAO scheme
BitDAO claims the "brand optimization" aims to reduce the complexity around the BIT ecosystem. "There is complexity as to whether $BIT should be valued for its governance component or product component or some combination," claims the proposal.
Along with its token replacement, BitDAO seeks to improve its tokenomics by accelerating contributions and remaining vesting schedules from its launch in 2021, meaning no outstanding vesting schedules will be inherited from the original BitDAO launch.
Voting on the proposal is open until May 19. At the time of writing, the proposal has received 100% support from over 25 million BIT votes. On BitDAO's governance forum, community members raised their voices to support the branding unification.
"[M]erging the brands before the Mantle mainnet release is a strategic move that will help create a unified identity for the ecosystem. This will ensure that users, developers, and token holders can associate the token and its value proposition with the Mantle brand," wrote a DAO member.
Magazine: The legal dangers of getting involved with DAOs