Crypto Fear and Greed Index hits highest level since Bitcoin's all-time high
Sentiment toward the crypto market is the most positive its been since around the time Bitcoin hit its all-time high almost 16 months ago.
The Crypto Fear and Greed Index has hit its highest index score this year, reaching levels not seen since Bitcoin (BTC) posted its all-time high in November 2021.
A March 20 update of the Index showed a score of 68, placing it firmly within the "Greed" territory.
The Crypto Fear and Greed Index aims to numerically present the current "emotions and sentiments" towards Bitcoin and the cryptocurrency market, with the highest score being 100.
The last time the index recorded a score above 66 was on Nov. 16, 2021, just days after Bitcoin's all-time high of over $69,000 was recorded on Nov. 10, 2021, according to Coingecko.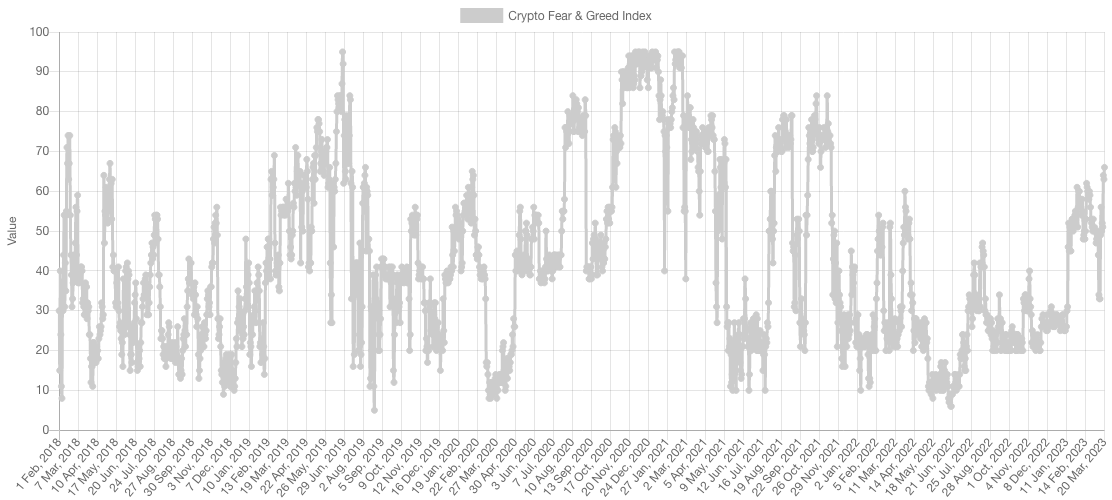 Sentiment around BTC and crypto has been bullish since the collapse of Silicon Valley Bank and the resulting fallout in the traditional financial system. 
Over the past seven days, Bitcoin has recorded gains of around 27.8% as per Coingecko data, and hit $28,000 for the first time since June 2022.
Crypto financial services Matrixport's head of research Markus Thielen suggested in a March 20 analysis that there is more upside on the cards for BTC, as the "liquidity story continues to be in Bitcoin's favor." 
The analyst has adjusted his near-term price target to $36,000 by June 2023, while he has tipped a year-end target of $45,000. 
Meanwhile, Charles Edwards, founder and CEO of investment firm Capriole, predicted an even more ambitious price target of $100,000 for BTC. 
In a March 14 tweet, Edwards, called BTC price action in 2023 a "Textbook perfect Bitcoin 'Bump & Run Reversal", and based on his interpretation of the data, he thinks "The target is over $100,000."
However, he did note that, "chart patterns do fail, don't use this as a trading / investment plan. Manage your risks!"
Ryan Selkis, founder and CEO of crypto analytics firm Messari shared a similar "rough" prediction in a March 16 post, explaining why he thought over the next twelve months it was possible for BTC to hit $100,000. 
According to Selkis, a combination of bank failures and changes to federal monetary polices will see more outside investment into crypto.
My rough prediction for the next twelve months:

1. More bank failures in the next couple of weeks.
2. Fed cuts / QE is back!
3. BTC climbs, sustained moderate inflation.
4. "Outside Money" / "Sound Money" -> $100k / BTC.
5. Institutions buy faster than Feds can shut down.

Game.

— Ryan Selkis (@twobitidiot) March 17, 2023
 "But the key is threading the needle so institutions can buy it and defend it alongside of us. Best case scenario right now," Selkis said. 
"This is an optimistic bet on the future, as BTC is treated as a life raft and peaceful exit option," he added.
Related: Bitcoin stays out of fear for 11 straight days as price tips near 24K
Bitcoin has been ranked by investment firm Goldman Sachs as the top performing asset this year, gaining 51% in year-to-date absolute returns.
In a March 17 note, the asset manager revealed Bitcoin's total returns YTD has outpaced the likes of information technology, gold, the NASDAQ 100 and the S&P 500, among others.