Ethereum Higher as Market Turns to Shanghai Upgrade, GRT, MAGIC, OP, Feb. 6
ETH
Ethereum was higher this week by 2.25% as investors turn to the next upgrade for the project.
Ethereum has recently seen a pick up in on-chain activity, as investors turn their attention to non-fungible tokens (NFTs). This has been sparked by the launch of a mini-game by Yuga Labs, creators of the Bored Apes collection. Daily fees on Ethereum have more than doubled since the start of the year from around $2 million to around $5 million.
Bernstein analysts said that ether inflation has remained negative for over two weeks, with an expectation for further deflation with more on-chain activity and demand.
"We do believe BTC [bitcoin] and ETH remain relatively clean here and will see gradual conviction-based spot positioning," analysts Gautam Chhugani and Manas Agrawal wrote.
The next big driver for Ethereum interest is the Shanghai upgrade which is now due around mid-March, where withdrawals of staked ether will be enabled. That could bring some caution as investors fear the potential for selling as 70% of the ETH staked has been through liquid staking pools such as LIDO.
The remaining ether has been directly staked into the beacon chain and is unlikely to be short-term holders. Therefore, there may be caution approaching the event, "but improved conviction in holding in spot markets, as the fears recede," Bernstein.
Ethereum was trading at $1,622 after seeing resistance at $1,700 and the coin has support around $1,500.
GRT
The Graph was trading higher by 44% this week after artificial intelligence projects were boosted.
The ChatGPT app, which is an AI language model, has attracted millions of users from its recent launch and has led to increased interest in AI projects in the crypto space. The Graph and SingularityNET were two of the crypto market leaders this week as investors look to new projects.
An article from Kitco quoted a statement from Tradingbrowser.com which said:
Following Crypto's tumultuous journey in the previous 12 months, many are searching for a more secure way of trading and investing in Crypto, and that is what A.I. brings to the game, a prompter detection of fraud, risk protection, and autonomous trading opportunities.
The Graph was launched two years ago and allows developers to easily search, index, use and publish data from public blockchains. The project reported strong developer adoption after a year with the total number of developers increasing by 145% to 38,000 from November 2021 to the same period in 2022. The Graph has also become the most-searched A.I. cryptocurrency in 2023, with an average monthly global search total of 8,100.
The price of GRT was trading at the $0.133 level with a market cap of $1.17 billion.
MAGIC
The price of Magic was higher by over 40% this week as investors embraced another theme in metaverse tokens.
Investors are starting 2023 with a hunt for undervalued tokens that could join the likes of Decentraland (MANA) and The Sandbox (SAND).
MAGIC is a utility token built on the Arbitrum blockchain and it is used to buy and sell NFTs on the Trove marketplace. The token can also be staked and is seeing investor interest with renewed attention on NFTs.
January saw the highest NFT volumes since June last year, according to the Dapp Industry Report: January 2023. The growth in January marked a huge difference from recent trends with October seeing trading volumes dip to a low of $662 million.
A number of blockchains allow traders to buy and sell NFTs, but Ethereum has held the lead with over $36 billion in all-time sales, data from NFT aggregator CryptoSlam showed.
January was strong for both Ethereum and Solana, which saw trading volumes of $659 million and $85 million, respectively.
The price of MAGIC was trading at the $2.00 level on Monday with a ranking of 94 in the list of crypto tokens by market cap.
OP
Optimism (OP) joined the bullish coins this week with a 22% rally.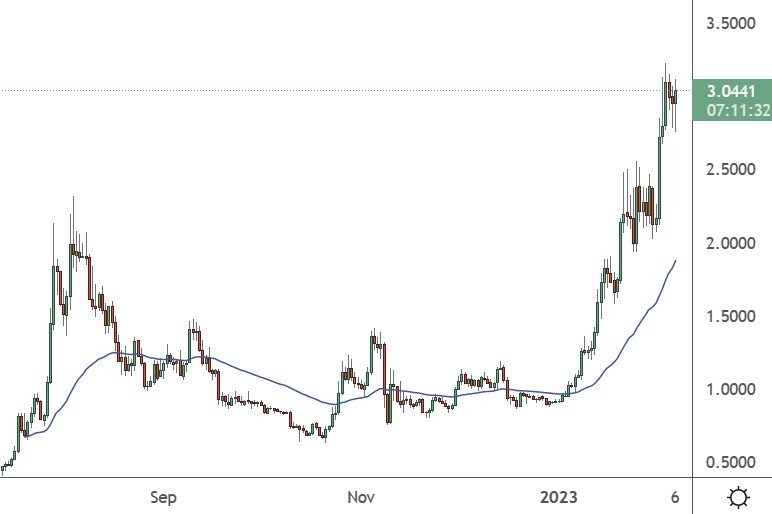 Optimism (OP) has seen its importance growing in the world of Ethereum Layer 2 as the project now controls 80% of the TVL, alongside Arbitrum. In mid-January, the two protocols passed Ethereum's daily transactions, highlighting their scaling potential. Optimism (OP) processed some 800,000 transactions alone in one day during that month.
Arbitrum also gave up some of its power to Optimism (OP) with the launch of a service called Odyssey. According to DappRadar, Arbitrum had $1.2 billion in total value locked (TVL) in late 2022, however, its TVL crashed one day later to $125 million. The project has since struggled to recover that staking level. Optimism (OP) continues to offer lower fees than Ethereum and could continue to see growth in 2023.
OP is trading around the $3.00 level with a market valuation of almost $700 million.