Ethereum Rallies 10% as Crypto Market Improves, SOL, GALA, GALA, APT, Jan. 10
ETH
Ethereum rallied 10% as the crypto market mounted an early-year rally.
The world's second-largest cryptocurrency was able to outperform the 3.5% rally in Bitcoin. A lot of optimism surrounds the bounce in some of the coins that were beaten down in the bear market. However, some of the gains are likely down to tax-loss harvesting- a scheme where investors can sell their cryptos at a loss in December to carry a tax deduction forward. Once that is done, they can buy again in January.
Meanwhile, a large bet has been placed on Ethereum moving lower to the $400 level. An order for 26,000 ETH put options was placed with an expiry of June 30, 2023. Analyst and trader @TeddyCleps was also bearish saying that Ethereum has been stumbling at resistance for eight months.
Another upgrade is due for ETH with developers on the first All Core Developers Execution (ACDE) team agreeing to "tentatively" set a date of March 2023 for the Shanghai hard fork. The next ACDE call will go live on January 19, and the fork is the first radical change on the network after the Merge transition from proof-of-work to proof-of-stake.
The number of Ethereum validators is now set to surpass 500,000 in 2023. According to on-chain metrics, Ethereum's issuance rate of new coins has dropped considerably. The network has been operating with the PoS consensus algorithm for over three months, and the community is now excited about the Shanghai hard fork and the ETH token unlock. 
The price of Ethereum is now testing another resistance level with the $1,350 zone and the target above that would be $1,650.
SOL
Solana was one of the hardest-hit coins in the bear market with a drop from $250 to around $8. However, the coin has been leading the latest charge with a gain of over 50% this week.
Solana's gains have been attributed to a new meme coin launched on the Solana network. BONK is another dog-themed coin that was airdropped to Solana users and rallied around 2,500%. That brought a lot of attention to Solana and some value investors jumped in. 
But investors have not learned their lesson with meme coins and the price of BONK slid. That led to developers behind the coin burning their allocation of 5 trillion BONK tokens early Friday, as they attempted to slow the token's bearish momentum. 
The big threat to Solana is its involvement with the now-bankrupt FTX exchange. Alameda Research, the trading arm of FTX, bought 58 million SOL tokens which is equivalent to 10% of the supply. Administrators may now have to sell those tokens to pay creditors and that would lead to another price drop.
Development activity and Total Value Locked is also drying up on SOL and there are concerns for the project's future. According to DeFiLlama, Solana's TVL has seen a dramatic drop of 98% from its record high of $10.17 billion, falling to $206 million earlier this week. That marks a 27% drop in TVL over the past month.
In November Tether took $1 billion of its USDT stablecoin from Solana, while several major exchanges including Binance, Crypto.com, and OKX all paused Solana-based deposits and withdrawals for USDT and USDC. Major NFT projects including Magic Eden, DeGods and y00ts have all announced plans to migrate to other chains.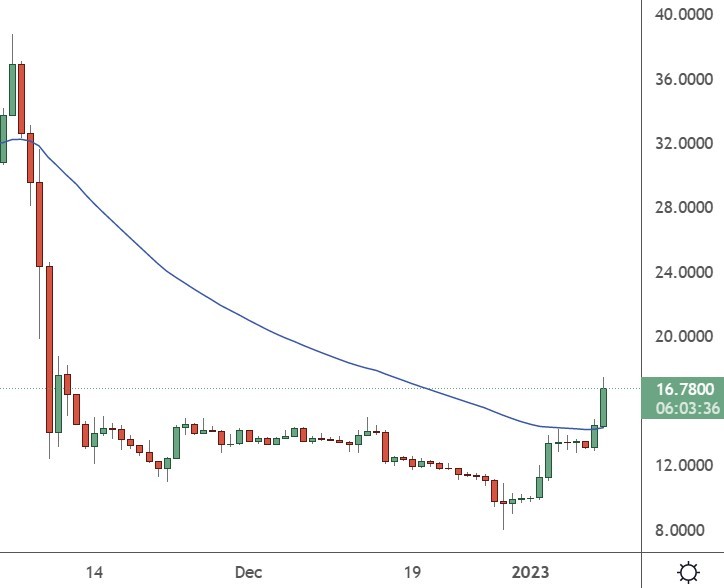 The price of SOL has rallied from the lows at $8 to a price of $16 but headwinds are big for a greater advance.
GALA
The price of Gala Games rocketed this week by 170% after a collaboration with actors, The Rock, and Mark Wahlberg.
Gala Games is a gaming blockchain that was founded by the co-founder of Zynga. Zynga was acquired in a $12 billion deal in 2022 by Take-Two Interactive and the plan for Gala is to attract a big ecosystem of gamers.
Gala Games has a growing collection of games such as Townstar and Spider Tanks. Other games currently in development are Mirandus, Legacy, Echoes of Empire, and Legends Reborn. Some of its games have become relatively popular among gamers who want to make money.
GALA soared after the developers announced a new partnership with The Rock and Mark Wahlberg. The aim of the collaboration is to work on a new project called Gala Film, where the developers want to see moviegoers or Netflix watchers having access to unique digital assets.
The price of GALA surged from around $0.016 this week to a price of $0.048 and could continue to see some positive price action.
APT
The price of Aptos has been rallying in recent weeks and saw another 40% gain this week.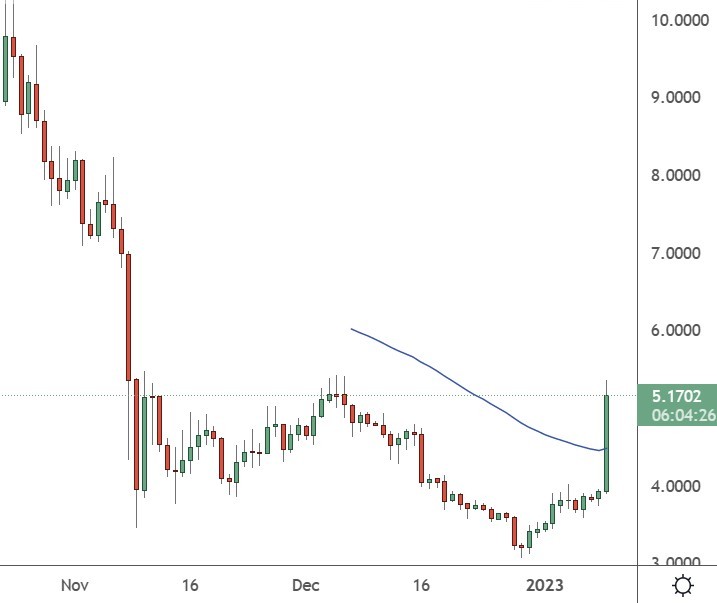 The PancakeSwap decentralized exchange is now the top DEX on the Aptos blockchain and the CAKE community has voted in favor of keeping up work with the network. At the time of writing, the proposal has more than 99% of the votes favor the proposal.
The proposal noted that PancakeSwap has 14 farms deployed on Aptos, with APRs consistent with, or higher, than offerings from other DEXes on Aptos. The DEX also wants to attract more Aptos-based projects which can help both CAKE and APT.
Aptos was founded by a team that was working with Meta Platforms (formerly Facebook). 
Although Aptos only launched in late 2022, developments started as early as 2018. The team has spent over three years working on the codebase and building an enterprise-level blockchain. The team has also raised $350 million in funding from a series of funding rounds led by Andreessen Horowitz and FTX Ventures.
The price of APT has rallied from $3.00 lows to $5.00 and this could be a low in Aptos as it heads for a top 50 place in the list of coins.