Vitalik Buterin calls out FTX for virtue signaling: 'Deserves what it's getting'
While acknowledging the damage caused by FTX, Buterin believes that FTX CEO Sam Bankman-Fried, as a person, deserves love.
The sudden fall of FTX revealed the need for fresh reforms aimed at protecting investor funds against manipulation and misdirections. The co-founder of Ethereum, Vitalik Buterin, believes what FTX did was a bigger fraud when compared to the infamous Mt. Gox and Terra collapses.
Buterin believed that people running Mt. Gox and LUNA ecosystems "looked" sketchy and did not try too hard to whitewash themselves enough to change investor perspectives. On the other hand, Buterin said that "FTX was the opposite and did full-on compliance virtue signaling."
While virtue signaling relates to the practice of publicly demonstrating one's good character, Binance CEO Changpeng "CZ" Zhao showed disappointment in FTX for misappropriating user funds, which according to him, has set the industry a few years back in terms of regulatory acceptance and mainstream adoption.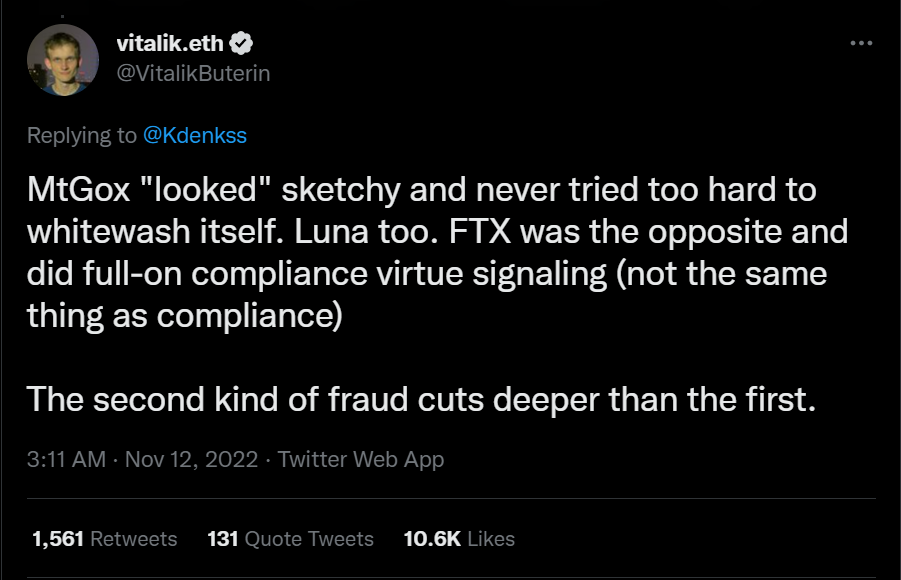 Considering the negative impact caused by FTX's wrongdoing, Buterin spoke against FTX CEO Sam Bankman-Fried:
"SBF the public figure deserves what it's getting and it's even healthy to have a good dunking session to reaffirm important community values."
However, given their length of acquaintance, Buterin believed that Sam, as a person, deserved love and support, adding that "I hope he has friends and family that can give it to him."
However, not everybody was willing to cut some slack for the troubled entrepreneur. Dogecoin (DOGE) creator Billy Markus believed that SBF also deserved some jail time — a point of view resonating with small investors who recently lost their funds.
Related: Sam Bankman-Fried is 'under supervision' in Bahamas, looking to flee to Dubai
To avoid an FTX-like situation from happening, the crypto community has proactively begun cross-checking the cold storage funds and has started demanding clarifications for the on-chain anomalies.
Most recently, the community questioned Crypto.com's intent to transfer 320,000 ETH from an in-house cold wallet to Gate.io. However, Crypto.com CEO Kris Marszalek clarified that the funds were accidentally sent to a whitelisted address on Gate.io that was owned by Crypto.com.
"If an exchange have to move large amounts of crypto before or after they demonstrate their wallet addresses, it is a clear sign of problems. Stay away," warned CZ.