Bitcoin market cap grows 60% in 2023 as top Wall Street banks lose $100B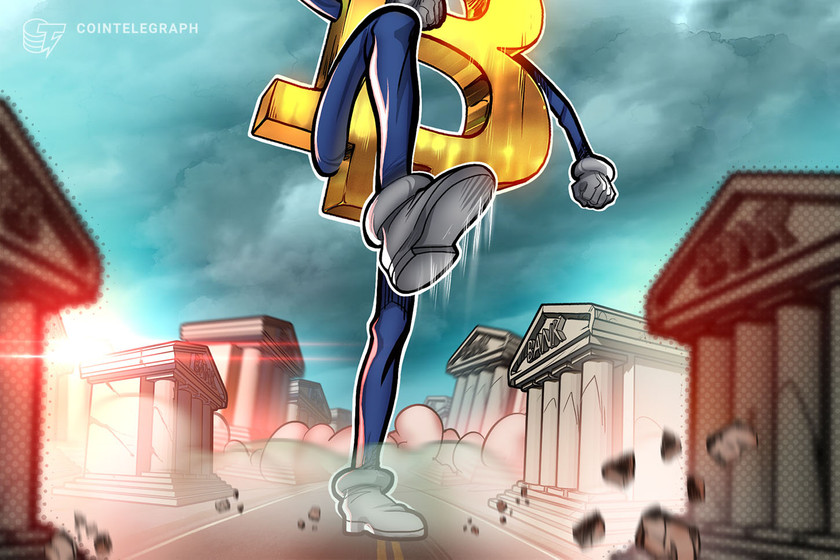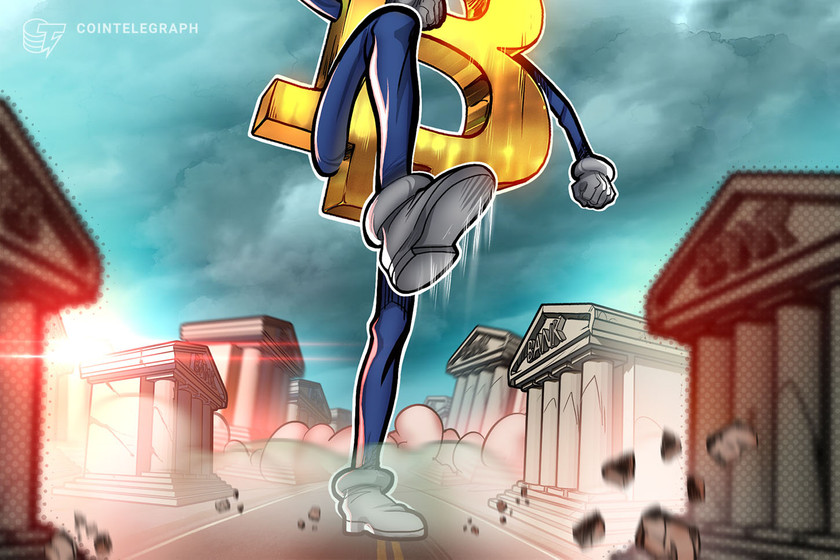 Bitcoin has decoupled from stocks and continues to rise 10 years after the Cyprus banking crisis coincided with a BTC price boom.
The market capitalization of Bitcoin (BTC) has added $194 billion in 2023. Its 66% year-to-date (YTD) growth vastly outperforms top Wall Street bank stocks, particularly as fears of a global banking crisis are rising.
Moreover, Bitcoin has decoupled from United States stocks for the first time in a year, with its price rising about 65% versus S&P 500's 2.5% gains and Nasdaq's 15% decline in 2023.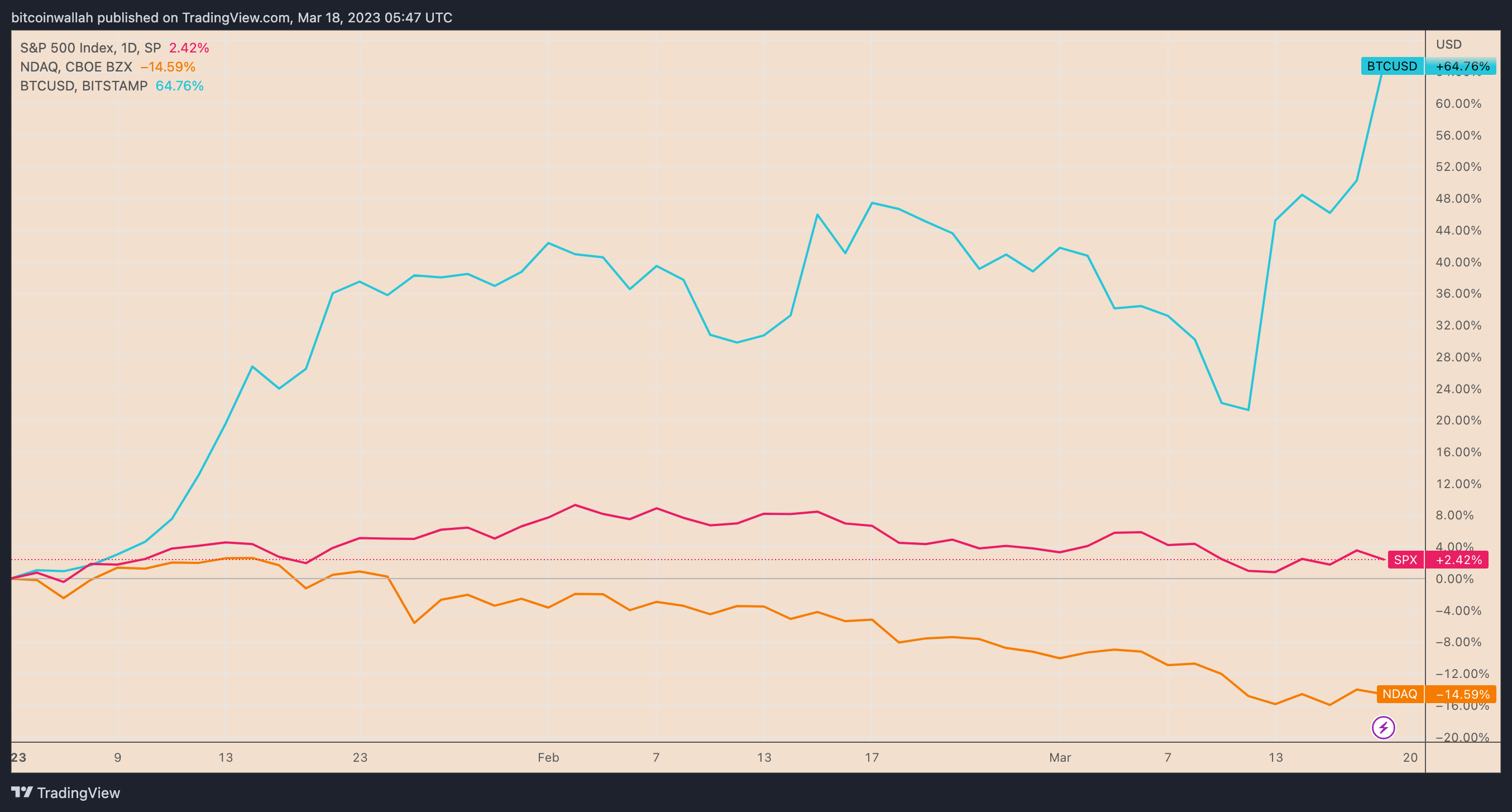 Wall Street banks lose $100B in 2023
The six largest U.S. banks — JPMorgan Chase, Bank of America, Citigroup, Wells Fargo, Morgan Stanley and Goldman Sachs — have lost nearly $100 billion in market valuation since the year's start, according to data gathered by CompaniesMarketCap.com.
Bank of America's stock is the worst performer among the Wall Street banking players, with a nearly 17% YTD drop in valuation. Goldman Sachs trails with an almost 12% YTD decrease, followed by Wells Fargo (9.74%), JPMorgan Chase (6.59%), Citi (3.62%) and Morgan Stanley (0.84%).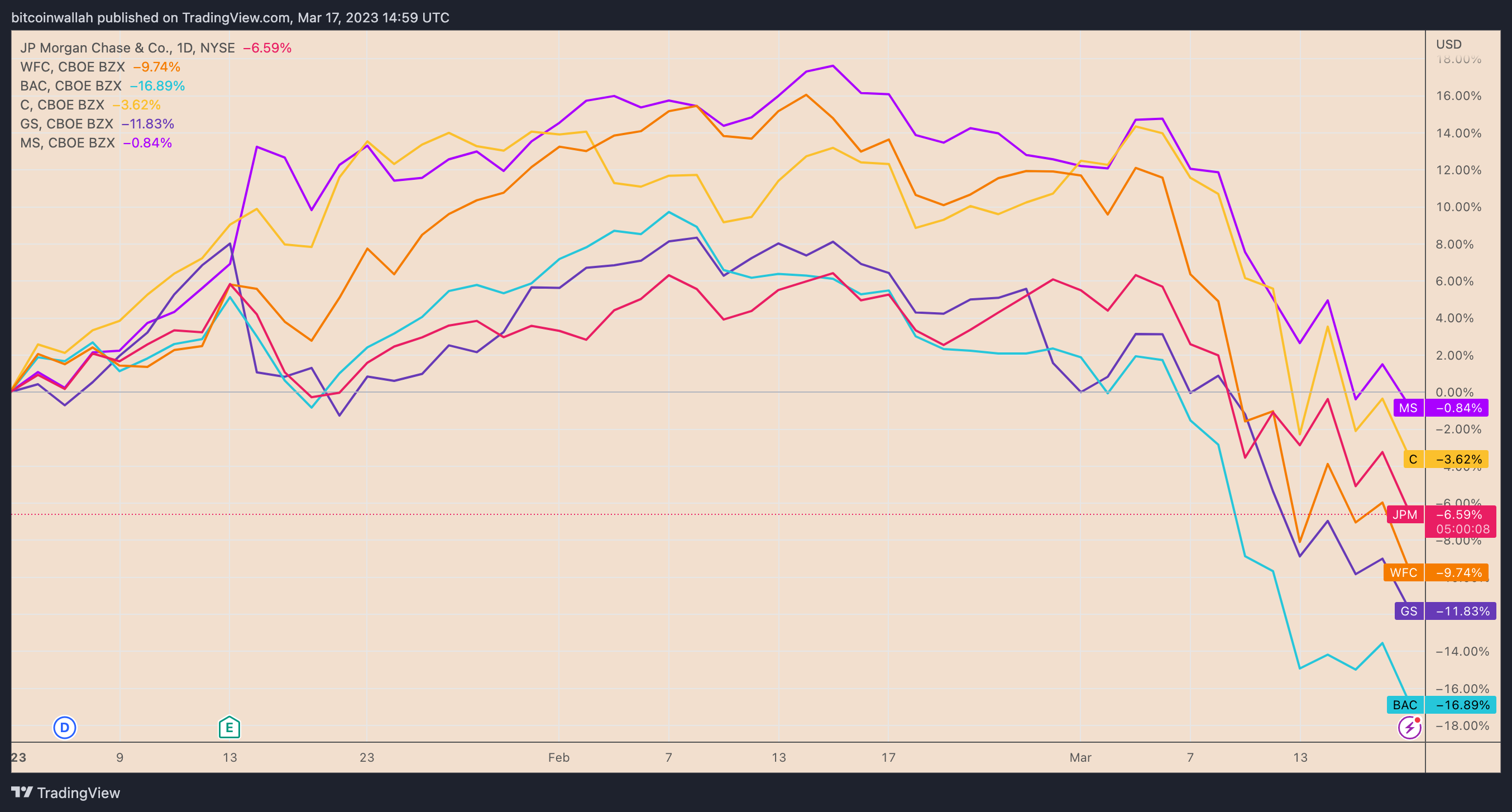 U.S. bank valuations have slid amid the ongoing U.S. regional banking collapse. That includes the announcement last week that Silvergate, a crypto-friendly bank, was closing its doors, followed by regulators' subsequent takeover of Signature Bank and Silicon Valley Bank.
Related: Breaking: SVB Financial Group files for Chapter 11 bankruptcy
The crisis further expanded with the near-collapse of First Republic Bank, which was saved at the last moment through a $30 billion combined injection by Wells Fargo, JPMorgan Chase, Bank of America and Citigroup — among others.
Cyprus and Greece deja vu?
The rise of Bitcoin in the face of a growing U.S. banking crisis is similar to how it reacted during banking collapses in Cyprus and Greece.
BTC's price grew by up to 5,000% amid the Cyprus financial crisis in 2013, prompted by the exposure of Cypriot banks to overleveraged regional real-estate companies.
The situation was so dire in March 2013 that Cyprus authorities closed all banks to avoid a bank run.
When Greece faced a similar crisis in 2015 and imposed capital controls on citizens to avoid a bank run, Bitcoin's price gained 150%. 
"Fears over the stability of the banking system, along with declining real interest rates, creates a good environment for Bitcoin to rebound," commented Ilan Solot, co-head of digital assets at London broker Marex, adding that the crypto "is seen by some investors as a hedge against systemic risks." 
This article does not contain investment advice or recommendations. Every investment and trading move involves risk, and readers should conduct their own research when making a decision.