Binance 'not planning any layoffs,' 500 roles to be filled in H1
A Binance spokesperson told Cointelegraph that they hired 600 people since January and have no imminent plans for layoffs.
Cryptocurrency exchange Binance is "not planning any layoffs" and is instead trying to fill another 500 roles by the end of June, according to a Binance spokesperson.
The comments came despite a huge spike in crypto layoffs in January — the majority of which were from crypto exchanges. In a statement, the Binance representative said: 
"As of today, we are actively hiring for more than 500 roles with the goal of filling them by the end of H1 […] We are not planning any layoffs."
The spokesperson was responding to a request for clarification from Cointelegraph on March 1 regarding a tip it had received of possible redundancies at the crypto exchange. The latest comments appear to completely refute this speculation.
At the time of writing, Binance had 463 listings on its job openings page, with roles in business development, communications, customer support and engineering, to name a few.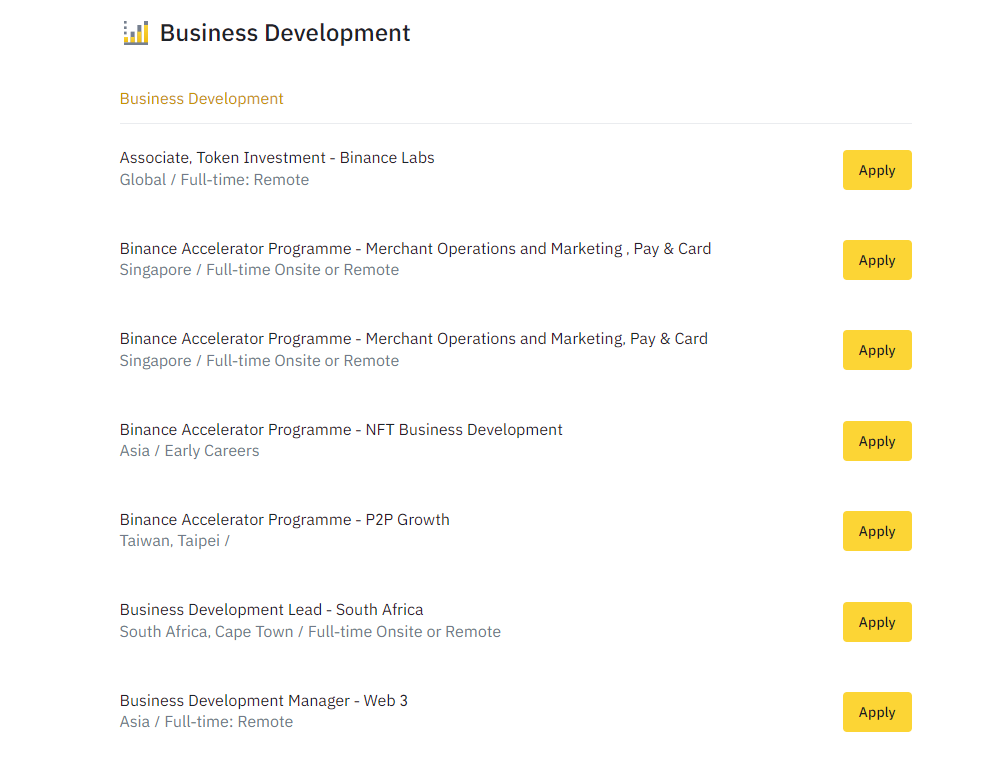 In January, Binance CEO Changpeng Zhao said that the firm was planning for a hiring spree in 2023, increasing its headcount by 15% to 30%, according to a Jan. 11 report from CNBC.
The spokesperson said that the company has hired more than 600 people since the start of 2023.
According to CoinGecko, 84.8% of the crypto layoffs in January were due to crypto exchanges reducing headcount, including Coinbase, Huobi, Blockchain.com, Crypto.com and Luno.
Coinbase announced it would be reducing its headcount by around 950 on Jan. 10, while Crypto.com announced on Jan. 13 that it would be reducing its workforce by around 500.
Related: Sen. Elizabeth Warren and colleagues demand to see Binance's balance sheets
Binance has been regarded by some, such as Arcane, as one of the "winners" of 2022, with the fall of crypto exchange FTX and the implementation of zero-fee Bitcoin (BTC) trading leading to it capturing an overwhelming portion of the market.
On the other side of the coin, the exchange has also seen intense scrutiny. Most recently, this has revolved around the alleged shuffling of $1.8 billion in funds which some have compared to the actions of bankrupt crypto exchange FTX.
Binance used $1.8 billion in customer funds for its own purposes, similar to what FTX did

Here we go again

— Genevieve Roch-Decter, CFA (@GRDecter) February 28, 2023
Binance CEO Changpeng Zhao took to Twitter to respond to the allegations, labeling it "FUD" and suggesting it was standard practice for an exchange.
This year has had a tough start for those working in the crypto industry, with at least 14 firms and nearly 3,000 jobs being lost in January before a milder 570 layoffs in February.
But the tide could be turning, with the crypto market cap increasing by over 34% so far in 2023, according to CoinMarketCap, and other firms, such as USDC issuer Circle, also planning to go on a hiring spree.