How to Get a Business Loan for Your Company Explained
You should have a wise approach when it comes to borrowing and evaluate your options choosing the loan that best suits your business situation. Check your budget with the best Сanadian budget apps to see if you have any additional debts or if your budget is currently in the best condition or not. 
Your business and personal credit will be evaluated to define your eligibility. Keep on reading to find out what is needed to get a business loan.
How Much Business Loan Can You Get
You may be wondering how much you can qualify to get in the form of a loan for your business needs. Typically, the lenders will offer from $5,000 to $500,000. The sum range is quite big as every lending institution may offer different amounts and crediting conditions. 
The sum you can borrow as a business loan also depends on your eligibility criteria and factors such as business revenue, debt-to-income ratio, and credit rating. 
Those who are planning to launch a startup will usually qualify for a smaller sum as their credit history is limited. Small business owners with established credit history who aim to expand their venture may obtain a larger sum.
Different Types of Business Loans
In 2020, Canadian small businesses comprised 98% of all businesses and hired 7.7 million people or 67.7% of the private sector labor force. The data from the recent survey found that the outstanding debt helped by all small ventures boosted in 2020 to CAD 1,007 billion. The debt financing by the source of financing chart shows the most common lending institutions that offer business loans in Canada.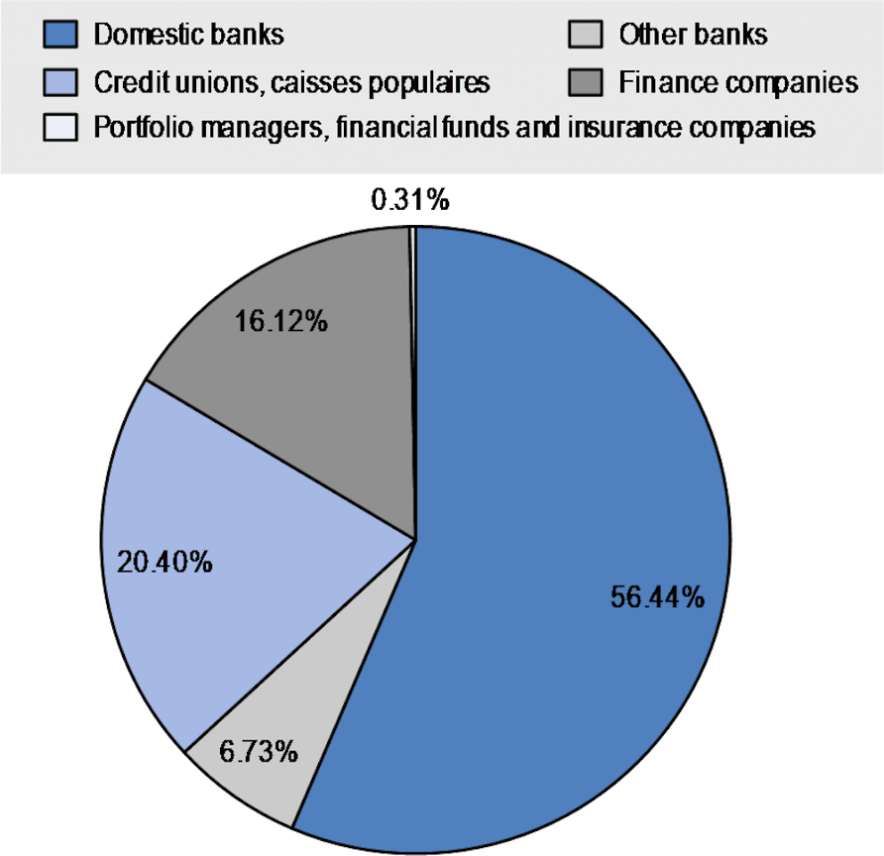 There are several kinds of business loans you can choose from:
Canada Small Business Financing Program (CSBFP)
Those who qualify for a CSBFP loan may obtain up to $1 million for their business needs. This lending tool is issued through local banks and backed up by the federal government. You have the right to utilize up to $350,000 for leasehold improvements and equipment.
Lines of Credit
The smallest line of credit is $10,000. The borrower's financial position and business needs will determine the maximum sum. If you turn to private lending partners, they may issue up to $500,000. Some business lines of credit can offer a smaller amount.
Business Term Loans
You may generally obtain a business term loan from $5,000 to $1 million. Those who can provide collateral to back up the debt may qualify for a larger limit. Unsecured business term loans will be issued in smaller sums.
Merchant Cash Advance
This advance is given on future business sales in the form of cash. You can borrow from $5,000 to $50,000 for various purposes. A predefined percentage of the credit sales is used to repay the monthly debt.
Microloans
Each provider issues a different amount of the microloan. A business microloan can be between $500 and $10,000. Startup owners can qualify for this lending tool. Moreover, poor credit holders and other entrepreneurs can also obtain a microloan for business.
Equipment and Vehicle Financing
From 80% to 100% of the value of vehicles or businesses, the equipment can be borrowed by small business owners. Generally, they can qualify for up to $500,000 from online creditors or local banks. Those who apply for a CSBFP loan may take out a maximum of $350,000 for business equipment.
Invoice Factoring
It is a type of alternative business loan. It may offer a larger amount compared to a line of credit or a term loan. It includes selling the unpaid invoices at a discount to obtain a loan against the sum you're owed. However, this lending tool may turn out to be more expensive than the regular term loan.
How to Get a Business Loan
Here are the necessary steps to obtain a business loan and fund your needs:
1. Make a Business Plan. The first thing any lender will want to know is who you are and what venture you are having or planning to launch. So, it's essential to create a business plan. Make it as detailed as you can. The document should include the marketing plan, how you aim to control your business, what challenges you may encounter, and how many employees you are about to hire. And how you will manage the cash flow.
2. Do Your Research. Don't launch a new business until you conduct a deep analysis. Read through the industry reports and ask other people who work in government statistics or the same business sector. Understand the challenges and recent trends in your industry. If you do your homework and become familiar with what you are going to face, lenders will most likely accept your loan application.
3. Invest Your Own Funds. Lenders will likely deal with you as a potential borrower if you invest your own money in your venture. Instead of asking for huge cash from them, you can invest a portion of your funds and borrow less. Then it will be easier to return the debt on time. If you want to demonstrate your commitment and increase the chances of loan approval, you also need to invest your money in the startup. Besides, a personal guarantee is usually demanded in unsecured business loans. Hence, your personal credit rating plays a big role in the request process.
4. Know Your Options. Make sure the startup you are planning to launch is well-researched. Know your options and choose the most suitable lending tool to fund your project. Have a closer look at government grants. Get in touch with the local banks to compare their lending offers. Private lending may also become a relevant possibility. Check what conditions are the best and where you can obtain the loan with the smallest interest.
The Bottom Line
In conclusion, there are several types of business loans available for consumers in Canada these days. You should review these types and compare your options to select the best lending tool for your startup or venture. Depending on your business type, you may qualify for a different amount from the bank or private lender.