Everything You Need To Know Before Investing In Binance Coin, Ripple, and Big Eyes
Most cryptocurrency experts will warn that traders should only invest in a coin they've carefully researched. The real problem is finding all the information you need about a crypto coin in one place. You'll usually have to dig through several resources to learn something useful. 
So, what do you do when you wish to learn about top crypto tokens? That's where we come in. This piece will handle everything for you. We'll review essential details about popular crypto tokens – Binance Coin, Ripple, and Big Eyes. 
Binance Coin (BNB) The Most Popular Coin 
Binance coin, also referred to as BNB, is one of the most popular cryptocurrency tokens on the digital market. Many users are familiar with this cryptocurrency because of its quick rise to the top. This cryptocurrency was the third most valuable alternative in the coin market for a particular period. Many things make Binance coin one of the hottest projects in the crypto space. 
To start with, Binance coin is closely linked to one of the most popular cryptocurrency platforms worldwide – Binance. On this platform, users pay their transaction fees using BNB coins. Therefore, as the platform grows, more people will have to purchase BNB for their transactions. Another interesting thing to note is that Binance Coin is that a cryptocurrency project also has its blockchain. This blockchain, known as the Binance Smart Chain, can be used to host other applications and projects. 
The Binance Smart chain is cheaper and faster than the Ethereum blockchain. Powered by a proof-of-stake platform, users can carry out their transactions flexibly. The BNB development team also has plans to burn certain amounts of BNB regularly. Doing this will create artificial scarcity and increase the demand for BNB. 
Ripple (XRP) The Open Source 
Ripple has been in the cryptocurrency space for many years. It's safe to say that Ripple was one of the first cryptocurrencies to be available to traders in the mainstream market. Like other top names in the crypto space, Ripple has a blockchain that serves as a digital payment system. This blockchain project acts as a payment settlement or asset remittance system that banks and financial institutions use to process transactions. However, Ripple will be able to perform better because it relies on the blockchain. 
You see, Ripple also serves as an open-source, decentralized platform. Using this platform, users can send any currency, including dollars, euros, and yen. This blockchain has plans to revolutionize the way transactions are handled worldwide. 
A ticker symbol, XRP, represents Ripple's cryptocurrency project. XRP tokens have been premined, and the blockchain will serve as an intermediary exchange between two networks or currencies. Ripple uses a mining consensus owned by a group of investment banks to confirm transactions. Ripple's blockchain is designed to consume less energy and fees. Despite being launched around the same time as Bitcoin, this protocol has a more efficient and faster infrastructure. 
Big Eyes (BIG) The New Meme Coin 
Most people are interested in learning about Big Eyes after observing the hype it has generated online in the past few weeks. After its Twitter meme war with Tamadoge, users were informed about what the meme coin offered. This encouraged more people to join the presale and buy as many tokens as possible. The presale is in the fifth stage, and a token launch is imminent.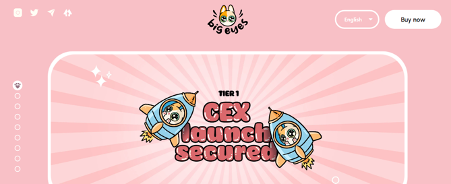 Many users are also part of this cryptocurrency project because they believe in its vision to be one of the top cryptocurrencies in the coin market by 2030. They have taken their place as part of a vibrant community of users. This community will be responsible for voting on future decisions and developments around this token. 
Big Eyes Coin (BIG)
Presale: https://buy.bigeyes.space/
Website: https://bigeyes.space/
Telegram: https://t.me/BIGEYESOFFICIAL