Bitcoin Holds $19,000 but Still Showing Weakness, RSR, TON, DOGE, Oct. 3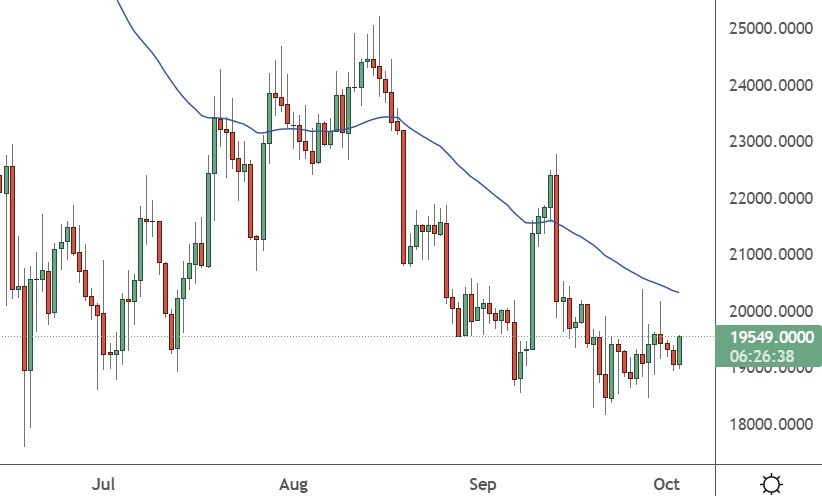 BTC
Bitcoin is 1.65% higher over the last seven days and some analysts see it as a positive due to stocks being lower. But the 2017 high in stocks was around the $20,000 level and we need to see a bounce in BTC here.
The Chairman of the Commodity Futures Trading Commission (CFTC) Rostin Behnam said last week that any CFTC regulation could have significant benefits for the crypto industry, including a potential boost in the price of the likes of Bitcoin.
"Growth might occur if we have a well-regulated space," Behnam said at a university. "Bitcoin might double in price if there's a CFTC-regulated market."
Behnam has been a supporter of clarity over crypto regulations, which is something that many in the crypto industry have said is lacking. Without a solid framework, institutional investors will continue to shy away from the sector. For a number of years, the CFTC and the U.S. Securities and Exchange Commission (SEC) have been trying to be the top regulator for the crypto industry. Both have been reluctant to issue clear guidance but they have been given more authority to do so from a Biden administration order. With a clear regulatory framework, there would be more opportunities for institutional investors to enter the market.
"These incumbent institutions in the crypto space see a massive opportunity for institutional inflows that will only occur if there's a regulatory structure around these markets," Behnam said.
Non-bank institutions thrive on regulation, they thrive on regulatory certainty, and they thrive on a level playing field. And they may say otherwise, they might bicker about the type of regulation – but what they love most is regulation because they are the smartest, the fastest, and the most well-resourced. With those attributes, they can beat everyone else in the market.
"We are appropriated money by Congress, and it has put us is a position where we feel like we're constantly on edge about how much money we will be appropriated," Behnam said. "We are still feeling the wounds and scars from about five or six years of flat funding."
The CFTC's battle with jurisdiction over crypto markets and a small operating budget has impacted its ability to effectively deal with crypto crime, Behnam added.
"We're only touching the tip of the iceberg," Behnam said. "The 60 or so cases brought, we've had to solely rely on whistleblowers, on customer complaints, and on tips coming to us.
"We don't have the traditional surveillance tools, the market oversight tools, to monitor trading platforms, to oversee broker-dealers or similarly-situated intermediaries … Those are the types of things we fall a little bit short on, not because of lack of effort but because of a lack of jurisdiction," he added.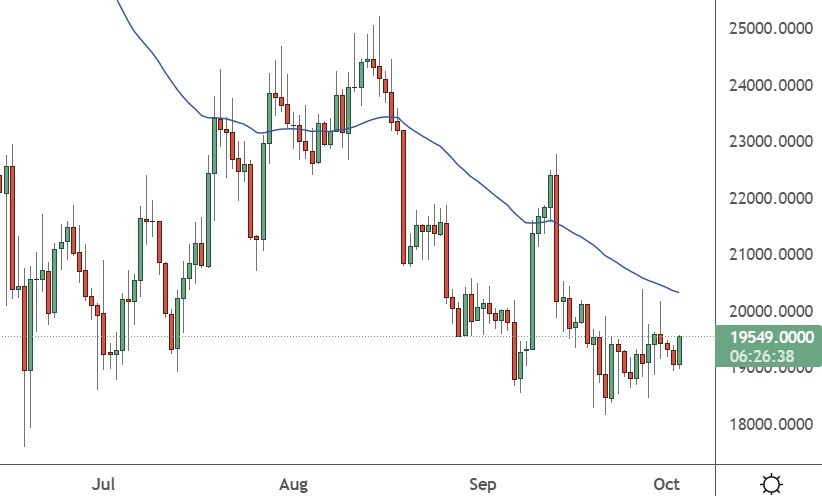 Bitcoin is holding the $19,000 level but it needs a catalyst to move higher and secure a low. The Monday rally in stocks could be helpful for the price of BTC.
RSR
The price of RSR was 26% higher this week as the coin made a second consecutive week of gains.
The Reserve Rights cryptocurrency is rallying ahead of its mainnet launch which sources have said is close to completion. RSR is the native token of the Reserve Protocol, which is a pool of stablecoins designed to reduce financial risk through diversification and decentralized governance.
The RSR token is an Ethereum-based ERC token and it is used for two main purposes in the Reserve Protocol. The token is used for insurance (RTokens) through staking and it is also used for governance in the Reserve Protocol pools via the proposal and changes to the pool configurations. In return for providing insurance to RTokens, stakers of RSR receive a staking reward from the revenue earned by the RToken that the holders insure. The RSR platform was launched in May of 2019 after a successful initial coin offering (ICO) on the Huobi platform.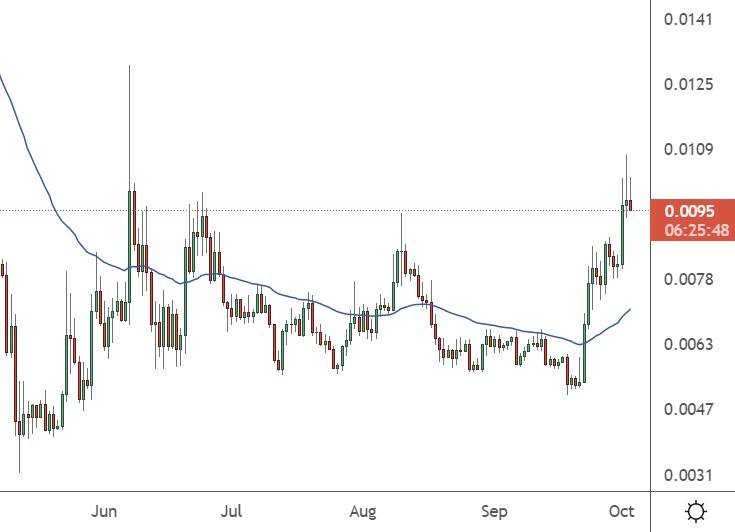 The price of RSR tested the $0.010 level last week and could correct in the short term but there is also potential for a low.
TON
The TON blockchain is a new project that has crept quietly into the top 40 coins.
TON is mineable, but the TON blockchain was never a PoW consensus algorithm. The TON blockchain is actually a consensus algorithm based on PoS which is the same chain that Ethereum has just turned to.
The TON blockchain is therefore a PoS blockchain, and the most important PoS infrastructure is the validator. There are currently more than 100 validators in the world, and most are private validators. To assist in the stability of the TON blockchain, TON holders can stake their TON to validators and earn TON PoS staking rewards as additional income. 
The current TON APY reward is about 13% and TonStake.com allows users to stake their TON to validators through a centralized validator service where they can earn an additional 13% TON after one year as a staking reward through PoS.
TON is a fully decentralized layer-1 blockchain that was designed by Telegram to onboard billions of users. The project boasts super-fast transactions, tiny fees, easy-to-use apps, and is environmentally friendly.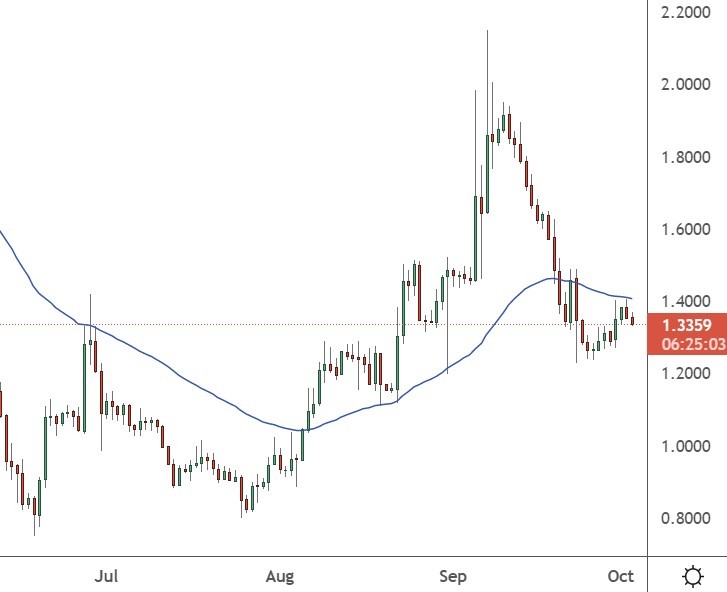 XRP
The price of XRP was 5% lower this week as hopes for a settlement to the SEC case faded.
Last week saw another win for Ripple in its case against the U.S. Securities and Exchange Commission, which sued the crypto firm and its executives in 2020 for the unregistered sale of $1.3 billion worth of XRP.
A U.S. District Court judge ruled to release emails and other correspondence from former SEC Director William Hinman. Hinman had said in a speech that ETH was not a security because, like bitcoin, it was "sufficiently decentralized."
Those comments have become the basis of Ripple's legal strategy, but the SEC has tried to block its usage in court. In a legal battle that is approaching the two-year mark, Ripple is seeking to prove the SEC has taken an unclear and contradictory approach to regulating crypto. The result of the case will have big implications for the cryptocurrency industry because other tokens could be classed as securities.
"The final version of Hinman's speech discussed a concept that is central to the Ripple founders' defense theory – whether assets that function solely as a means of exchange in a decentralized network are not a security, even if they could be packaged and sold as a security," Liz Boison of Hogan Lovells, said.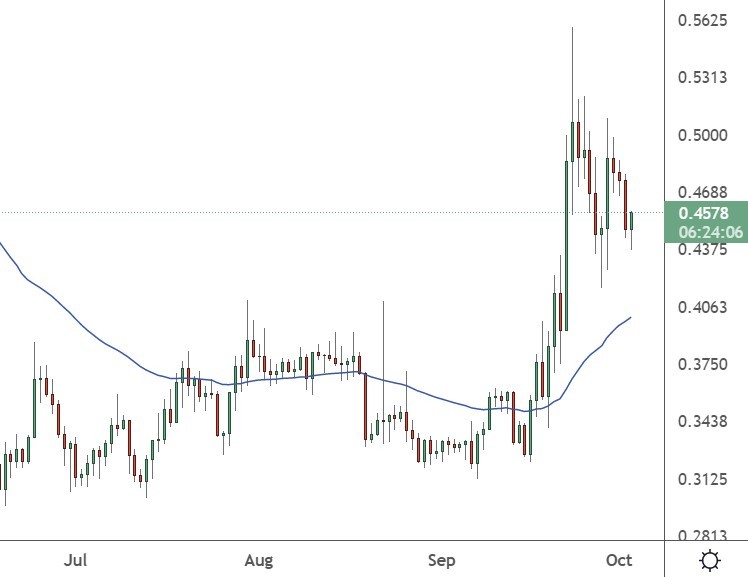 The price of XRP has dipped to $0.45, but there is still potential to add to the recent gains.